Bringing You the Most Convenient Kelowna Business Card Printing Solutions!
Now offering FREE DELIVERY to addresses in Kelowna, B.C. and to most surrounding areas.

We are here to help you get the best value for your dollar and simplify the print ordering process for our clients in the Okanagan. Our free shipping combined with some of the fastest turnaround times in the industry allow us to provide you with executive quality products, at some of the lowest prices in the industry, and much more conveniently than it would be to spend time tracking down a local shop that would meet your expectations of both quality and value. When trying to track down the perfect business cards Kelowna can be a difficult place to navigate, we're here to help. In fact, you won't even have to leave the comfort of your own home. You can order directly from our website and products will be delivered directly from our facility to your door within days (our business cards Kelowna shipping is free of charge within city limits and surrounding area).
---
Our Kelowna business card printing services include a wide variety of stock types and coating options to choose from. We believe your card should be unique and stand out, no business achieves any level of success by striving to be ordinary! Let us help boost your marketing campaign by supplying you with top quality business cards that will leave your colleagues, clients, and acquaintances asking you where you got them from. More than 50% of our business comes to us by word of mouth, place your order today and soon you will see why.
---
At Business Cards Canada quality is priority number one. How do we achieve such a high product quality? Let met explain what sets us apart. First off, we print our business cards in high definition at 500 lines per inch (offset) on the most advanced equipment available in the commercial printing industry today. By printing high definition offset we are able to achieve deep rich colours, smooth gradients, and avoid the fuzzy edges and pixelation that are common with digital print jobs. Secondly (and just as important) are the premium quality stocks we use. The majority of our products are printed on extra thick 16pt (350 GSM) card stock which is significantly thicker and heavier than the lighter standard 12pt stocks used by many of our competitors. Increased stock weight lends itself to a more rigid, higher quality feeling card. Another important part of the manufacturing process is the coating applied to the card surface after printing. We offer a variety of coating options, one of which is sure to suit the look you are trying to achieve. Whether you are aiming for the reflective flair of UV gloss (high gloss), a subtle and professional Matte finish, or the soft and "smooth to the touch" feel of Silk Lamination; we are sure to have a coating option to meet your needs. For those looking to go above and beyond we also offer additional advanced luxury options such as Spot UV, Coloured Foil, and Foil business cards. For those looking for something even more out of the ordinary, we also carry several types of plastic business cards that are completely waterproof (great for making business connections at water events or on the lake!).
---
Expected order delivery times
The estimated turnaround times below include the production process as well as shipping to the city of Kelowna.

Standard business cards Kelowna: 5-6 business days
SpotUV business cards Kelowna: 6-7 business days
Kelowna plastic business card printing: 7-9 business days
Foil business card printing Kelowna: 7-9 business days
If you need your order sooner please contact us and ask about our expediting options. Depending on your order size, we may even be able to offer you free expediting and free express shipping. Some orders can arrive as soon as the next business day!
* Rush orders must be placed before the daily expedited order cut-off time, please consult a representative to discuss your needs prior to ordering. Turnaround times are to be considered estimates and cannot be guaranteed.
---
Now offering FREE delivery to the following cities: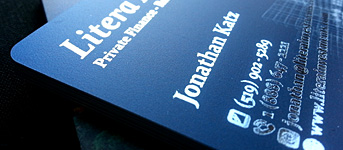 20pt Plastic Business Cards with Foil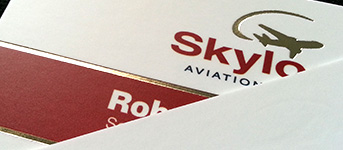 Silk Laminated Foil Business Cards

Silk Laminated Business Cards with SpotUV
---
See our product quality first hand!
FREE SAMPLE PACK
We'd love to show you our product quality before you place an order. FIll out the form below with your company details and mailing address and a sample pack will be mailed to you the following business day. Our business cards Calgary sample packs are mailed from our downtown office and should arrive within a day or two.

Questions about our products or ready to place an order? Give us a call!
1(855)321-2283