Business Cards Victoria, providing executive quality print solutions.
We now offer free UPS delivery to this location and some surrounding areas.
Providing professional printing solutions with quick production times and free delivery to your door.
If you're looking for a great deal on high end business cards Victoria can seem more like a maze than a city, especially when braving rush hour traffic. At Business Cards Canada we produce cards of the highest quality for much lower rates than you're likely to find in a local print shop. We also pride ourselves in making the ordering experience as convenient as possible; you can place the order from the comfort of your own home and your business cards will arrive at your home or place of business within days. In short, we can save you time and money while offering you a substantial quality upgrade over most other suppliers.
---
Our cards are a cut above! Here's how we set the bar...
Several factors come into play when it comes to producing a truly awe inspiring business card and we like to think we've got the recipe down perfectly.
First comes stock selection. Most of our products are printed on premium 350g/sm card stock (16pt). This coated substrate offers an incredibly high quality of print and captures every fine line and crisp detail (especially when printed in high definition 500 line screen offset). The stock is significantly more rigid and thicker than the 270g/sm (12pt) stocks commonly used by local digital shops. This stock upgrade makes a huge difference when it comes to the look and overall quality feel of your business card.
Print quality is also a major contributor to the finished product. You may have seen business cards in Victoria or elsewhere with lines or objects that appear blurry instead of sharp, or with pixelated edges. These are problems commonly associated with shops that use digital presses. Digital printing has it's advantages including the ability to do short runs without incurring setup or plating costs, however if you want top shelf results and cost efficiency for larger runs then offset printing is the way to go. Our products are printed at 500 line screen offset which offers much higher resolution and much better coverage than digital printing. This high definition printing results in clean, crisp prints with smooth gradients. Say goodbye to blurry lines and pixelation!
As soon as the cards are printed, it is time for coating. By adding this layer of coating to your cards we are able to give them a desirable gloss or matte finish while adding a layer of protection to your card that will help prevent it from being scuffed up in a wallet or pocket. Our UV Gloss provides the ultimate reflective coating for those seeking the shine of high gloss. If you're looking for a card that means business you'll probably love our Matte Aqueous, this coating provides a smooth and subtle finish that "shouts" professionalism.
In addition, we also offer several premium options including foil stamping, spot gloss (UV applied to select areas), silk lamination, and more. If you'd like to see all of our available options prior to ordering, please request a free sample pack. Sample packs include a variety of stock samples featuring our different coating and stock types, this is the best way to see our top quality business cards Victoria. Take a minute to fill out the form on our website to request your free sample pack and we should be able to have samples in your mailbox within 4 to 5 business days.
---
Order Delivery Estimates:
The following turnaround estimates include production and transit times and are based on orders placed with standard production and shipping options. For expedited orders please contact a representative.

Standard business cards Victoria: 5-6 business days
Spot Gloss (Spot UV) business cards Victoria: 6-7 business days
Victoria plastic business card printing: 7-9 business days
Foil business card printing Victoria: 7-9 business days
---
Click here to see photos and pricing for our different types of business cards
Now offering FREE delivery to the following cities: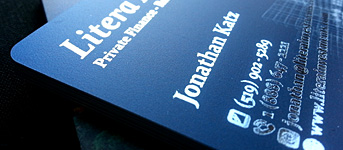 20pt Plastic Business Cards with Foil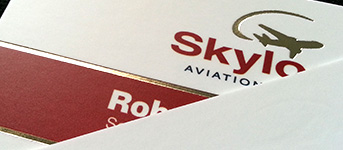 Silk Laminated Foil Business Cards

Silk Laminated Business Cards with Spot UV
---
See our product quality first hand!
FREE SAMPLE PACK
We'd love to show you our product quality before you place an order. Fill out the form below with your company details and mailing address and a sample pack will be mailed to you the following business day. Our business cards Calgary sample packs are mailed from our downtown office and should arrive within a day or two.

Questions about our products or ready to place an order? Give us a call!
1(855)321-2283